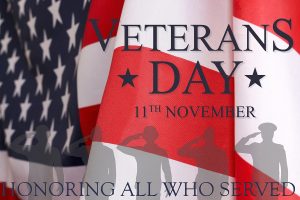 At Summit Dental we have a soft spot for Veterans Day. This year we will be open on Veteran's Day and I look forward to treating some of our favorite veteran patients!
One of the most rewarding aspects of owning Summit Dental is the quality of the patients we serve from the VA dental clinic. Dr. Peers insisted that before I consider working in this office I learn IV sedation. He insisted on this because of the great demand among our veterans for this service. Weekly we treat Veterans who have suffered combat related injuries ranging from PTSD and TBI to exposure to Agent Orange in Vietnam. There are a variety of health complications that come from these debilitating service related disabilities, and it seems a lot of them make receiving dental care extremely burdensome. This can stem from chronic pain injuries that make long appointments difficult and physically uncomfortable. The anxiety from dental instruments and sounds can trigger unpleasant memories. Whatever the reason is, I consider it a privilege to be able to sedate some of our Veterans and deliver high quality care that they have been putting off for decades.
The most rewarding part of seeing veterans is the amazing experiences we get to hear from them. The stories we hear and the knowing glances we exchange remind us that we are doing more than just dentistry: we are connecting with those who have served our amazing country. Just last week I had the privilege of receiving a challenge coin from a veteran and his wife. This experience took me back to my years in the Navy and told me we need to hold on tightly to the special relationship our office has with Veterans.