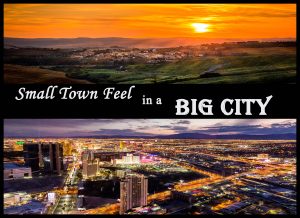 Sometimes I feel a little out of place in the big city of Las Vegas.  My vision for Summit Dental involves our practice experiencing the types of relationships you might get in a small town dental office.  This type of office, to me, seems to be the best way to find fulfillment and enjoyment in doing dentistry each day.  Las Vegas may not seem like the most obvious place to seek this type of practice, but maybe we can break the mold and create something that people in the big city aren't expecting to find.
There are multiple ways we try to accomplish this.  First, we invest in our team and in our business so that we all find satisfaction with our work environment.  This creates a more happy and consistent team and reduces the new faces you will see in our office.  Second, we keep on top of the latest technology and practices so we can minimize the number of referrals to other offices.  Certainly we love our specialists and use them when appropriate, but if we can learn something and keep you under our roof more often, everybody wins. Lastly, we try to give everybody a great experience each and every time they visit us.  We know that most people hate to see the dentist, but we hope they still love coming to see their Summit Dental friends!
Thank you for taking the time to read our blog and if you have any family or friends who need that small town dental office feel don't hesitate to send them our way!