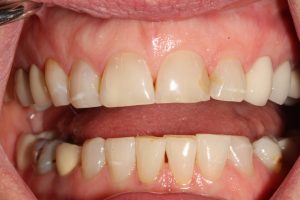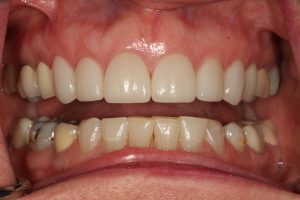 I know it's a little early but I was thinking about the sacrifice mothers make as I completed some crowns on a wonderful patient.  This mother lived for years not liking the look of her smile.  But as with so many other mothers I see in my office, she had put off her needs and desires while she raised her children.  Over time the previous white composite fillings she had started to stain and discolor.  In addition, she had some white decalcification areas that she wanted corrected. We talked about the options over several hygiene visits and she finally decided the time was right to complete the treatment.
Over two visits we prepared, temporized, and cemented her new crowns and veneers.  Even though she was initially a little nervous to have the work done, she was thrilled with the result! (I was too!)  It's cases like this that can make our profession so rewarding.  The smile is often the first thing people notice when we meet someone and this mother finally had a smile she could be proud of again!
Occasionally the years of selfless sacrifice don't always just result in cosmetic needs.  I also see mothers who have delayed replacing missing teeth or getting necessary work done on painful teeth because the needs of their children come first.  This seems to be the way of life was we sacrifice our time and effort for their needs. I know firsthand as I have two boys ages 5 and 2, and I have a newborn daughter at home as well.  They sure do take up a lot of my time and energy!
To all the mothers out there (my own wonderful mom included!) who put the needs and desires of their children before their own, we appreciate your sacrifice.  We hope you have a wonderful Mother's Day this year and receive all the love and appreciation you deserve!