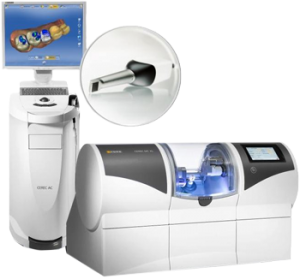 The last couple of months have been a whirlwind of new technology and procedures at our dental office!  A couple of months ago we had the opportunity to purchase a Cerec machine.  This machine enables us to make crowns in a single visit, which eliminates the need to wear a temporary crown for 2 weeks while the laboratory fabricates the crown for us.  Not only do the crowns fit better, but our patients no longer have to return for a second visit!  This has streamlined the procedure in our office and, honestly, made our dentistry a lot more fun to do.  Our team has loved learning this new process and we have seen the rewards in our satisfied patients!
With the addition of this new technology comes more opportunities for taking continuing education.  Recently our entire team attended the Academy of General Dentistry (AGD) Annual 2017 meeting in Las Vegas.  This 3 day event let our team members take courses in topics such as oral surgery, office management, occlusion, Cerec designing of crowns, and office culture. We came back energized from our courses and excited to implement some new strategies in the office!
Lastly we bought a new laser for the office.  The benefits of this to our patients are numerous!  The area we currently use lasers in the most is our hygiene department.  Michelle (our hygienist) and I are utilizing laser energy to kill gingivitis causing bacteria during your cleaning visit.  This helps the gums heal better after cleanings and look healthier at your next recall visit. In the coming weeks, I hope to use the laser in more of my procedures as well. This can include laser whitening, management of TMD pain, and better management of gum tissue while doing crowns and fillings.
Most importantly there is an excitement in the office from all the positive changes!  We have an increased desire to learn more about the technology that makes dentistry easier for us and the patients.  In the future, we have more courses planned for Invisalign, Cerec crowns, and implants.  We can't wait to add more services and be able to serve our existing patients better!