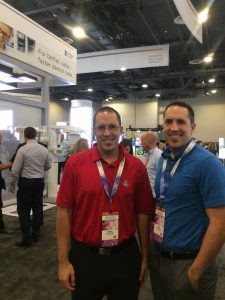 Last week I had the opportunity of attending the Dentsply-Sirona World 2017 here in Las Vegas.  As many of you know, my identical twin brother is a dentist (the one on the left of the photo) as well and we were able to "nerd out" together for 3 straight days! This was nothing new for us as we talk almost daily about dentistry to each other over the phone.
We attended the entire meeting for free because we took a "Discover 3D (CBDT)" track. This meant that we were interested in purchasing a 3D x-ray machine that enables us to see the mouth in 3 dimensions.  A traditional x-ray in a dental office only shows 2 dimensions and frequently misses critical diagnostic information.  It has always been on my radar to get this technology but the issue has been timing.  We recently purchased a Cerec machine that makes crowns in a single visit so the 3D x-ray machine may have to wait a few years.  It will be a tough wait though!  I have used this technology in the past for implant planning and it is incredible.  I cannot wait to have it someday.
In addition, we took courses about root canal therapy, implants, Cerec crowns, and patient financing.  The last one actually turned out to be the most rewarding course as I signed up our office to start offering financing through a service called Compassionate Finance. This company will allow us to offer monthly payments on our patient's terms so they can complete ideal care NOW, rather than delaying it or spacing it out over a couple of years.  The last thing we want is a patient delaying treatment while they wait for more insurance benefits, and then the tooth requiring more treatment like a root canal because we waited too long!
Dental meetings are exciting because they allow dental professionals to remember that we don't practice dentistry alone.  We have a lot of the same issues and concerns and it is nice to meet and talk about them so we can figure out solutions. I am excited about the future technology that is coming to dentistry and I look forward to bringing to our patient's here in Las Vegas!